Welcome to Ransome Mobility Solutions
We are a friendly, family-run business offering a range of nearly new wheelchair access vehicles for sale and hire, vehicle adaptations, and innovative Mobility Aids for customers in Suffolk, Essex, Norfolk, Cambridgeshire, and across the UK.
Established over 30 years ago, we have a reputation as a leading provider of high quality Mobility Aids and access solutions for the elderly and less abled, as well as for carers, care homes and family members.
Thanks to customer demand, we extended our services to include the sale of new and used WAV vehicles, while maintaining our emphasis on customer care, quality and high standards of excellence. We also offer a selection of WAVs for hire on both a short and long-term basis.
Our full range of mobility solutions include:
Wheelchair access vehicles
Vehicle adaptations
Vehicle access lifts
Straight stairlifts

Curved stairlifts
Wheelchair lifts
Through floor lifts
Public access products
---
As a premier partner of Motability Operations we work closely with our customers to deliver a first class customer service.
Each adaptation and installation is fitted to the best possible standards and we place a strong emphasis on ensuring a consistently high level of customer experience. Our work never stops, with the true test of our quality being the support we provide over the lifetime of our products and services.
About Our Mobility Solutions:
Wheelchair Access Vehicles
We sell all leading makes and models of WAV vehicles, including small family runabouts to large WAVs with spacious interiors for long journeys. All of our wheelchair accessible vehicles are low mileage, most are between 1-3 years old, and all are available with either a manual or automatic ramp access. We can also supply and install vehicle access lifts if preferred. At Ransome Mobility Solutions, our aim is to achieve the highest possible standards to keep our customers on the move.
Vehicle Adaptations
We supply a wide range of vehicle adaptations that can be professionally installed by our expert engineers. These include push and pull hand controls, swivel seats, wheelchair and scooter hoists, left foot accelerators, early release handbrakes, wireless keypad controls, steering wheel knobs and balls, left foot accelerators, the Carony Drive system and the Carony Turnout system. Browse our website to see more of our vehicle related products and services.
Vehicle Access Lifts
For those who prefer lifts over the ramp system, we supply high quality vehicle access lifts. Our range includes various features to suit individual requirements, such as an easy to operate hydraulic pump, a convenient transfer system from the wheelchair to the passenger or driver seat, and lifts that offer an unobstructed view from inside the vehicle, for drivers and passengers.
Straight Stairlifts
We supply and install a full range of high quality straight stairlifts to suit a variety of needs, including narrow stairlifts, perch lifts and stairlifts designed to accommodate passengers up to 30 stone. Ransome Mobility Solutions also provide reconditioned straight stairlifts or we offer a stairlift rental service, if preferred. Contact our experienced team of staff for a no obligation home visit to discuss your requirements.
Curved Stairlifts
Specifically designed for homes with a stairway with a bend or a curve, we sell a number of well-known, tried and trusted makes and models of curved stairlifts, including Minivator, Access BDD, Homeadapt, Freelift and Platinum. We also install stairlifts with a generous seat size for passengers weighing up to 30 stone. For all straight and curved stairlifts we offer a 24 hour aftercare service as standard.
Wheelchair Lifts
We supply and install wheelchair lifts, including step lifts, for safe and easy access around domestic, commercial or public buildings. As well as internal lifts, we also install external wheelchair lifts for customers throughout the UK including healthcare organisations, care homes, offices, hotels, and conference venues.
Through Floor Lifts
The hydraulically operated Wessex VM Through Floor Lift is designed to transport passengers safely and effectively between floors. It's available in a range of platform sizes to suit your requirements. Our qualified engineers are happy to discuss the options with you for your home or business.
Public Access Products
Recent years have seen a rise in the demand for public access products to allow full accessibility to buildings, including public buildings and retail establishments. Our experienced team at Ransome Mobility can advise you on the products you need to help you comply with the most recent legislation.
Our highly skilled specialists provide excellent levels of expertise and skill, ensuring our customers are in good hands every step of the way. From choosing the perfect product for your circumstances, to using the product once installed, we will always be on hand to offer the advice you need.
Based in East Anglia, we support customers in Suffolk, Cambridgeshire, Essex, Norfolk, Hertfordshire and Northamptonshire.
FEATURED PRODUCTS
The Simplicity 950 straight stairlift is simple and compact. It carries a maximum weight of 19 stone and has variable seat settings making ideal for a wide range of users.
Find out more >
---
The perfect solution for those unable to operate foot pedals in automatic vehicles.
Find out more >
---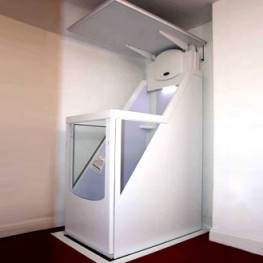 Ultra reliable and safe hydraulic wheelchair lft for between floors. Available in 3 platform sizes
Find out more >
---